AFFCA
The Alberta Firefighters Curling Association will be celebrating our 60th Annual Championship in 2019. Firefighters from TORRINGTON Fire Department will host Firefighters from across Alberta who will compete for the Provincial title Jan. 30 - Feb. 2, 2019 at the Three Hills Curling Club and Torrington Curling Club. The eventual winners will travel to Kelowna, BC to represent Alberta at the Canadian Firefighters Muscular Dystrophy Curling Championships March 22 - March 30, 2019. Please find more details about our upcoming event in the 2019 Event Page.
Need a player to fill your team or looking to find a team Click Here
To See Past Event videos
Click Here
Quick link to Eligability Requirements Click Here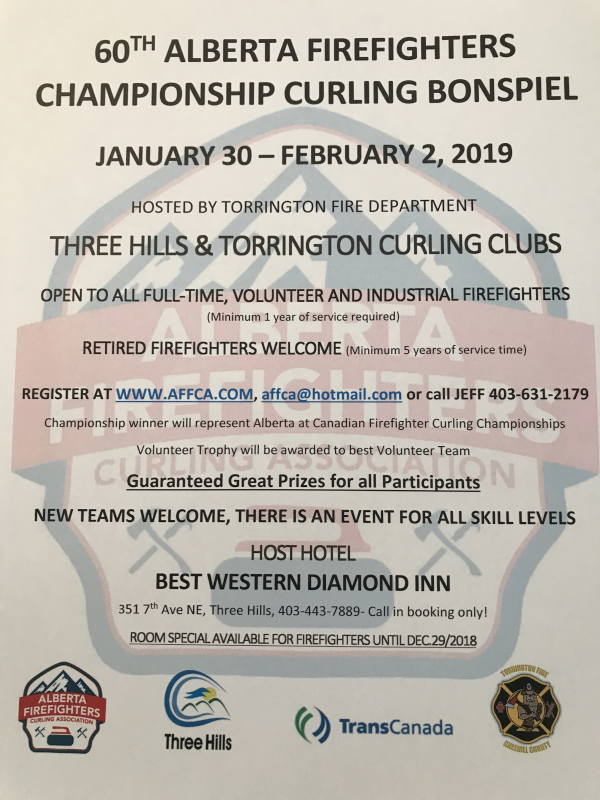 ENTRY FEE $540 but includes 3 meals and a great prize for all curlers!!!
JAN. 30
- Practice ice available- Torrington Curling Club 15:00 - 17:00
- Three Hills Curling Club 17:00 - 18:00
- Registration/Calcutta Night at Three Hills Curling Club after 20:00
JAN.31
- Curling- 08:00 - 21:00
-Opening Ceremonies- 10:30
FEB. 1
- Curling- 08:00 - 21:00
- Annual Lunch Meeting - 11:00 at Three Hills Curling Club
FEB. 2
- Curling- 9:00 - 15:00
- Champions are named
- Closing Banquet- at Three Hills Curling Club
WE WILL BE USING CCA BROOM HEAD RULES!!! View Here
NO DIRECTIONAL BROOM HEADS ALLOWED!!!